Activities Nursery and Primary
Polish Section
The polish Section organized a Easter Breakfast and it was a total success. Children were preparing and distributing food-boxes during the day to the classes.  During the teachers' break the boxes were being sold in the staff room and both teachers and administration staff chipped in. All boxes were sold! In total 750 euros were raises. The parents of the Polish section have chosen two organizations which will be granted the money. Thank you so much for your support.
For the Polish Section
Paulina Denisienko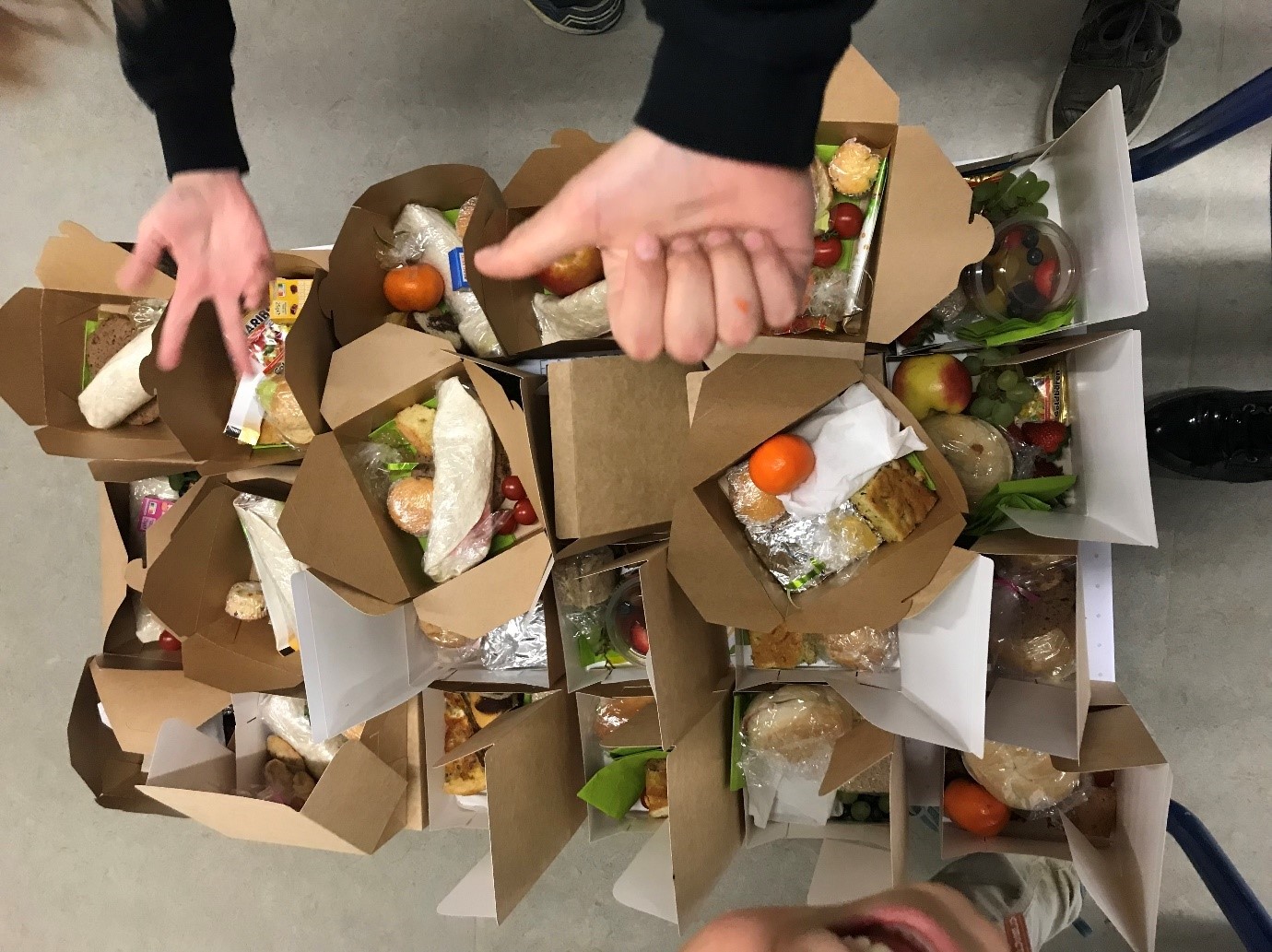 ---
French Section
Grâce à votre participation et à celle de vos élèves, nous avons récolté 3195,46 euros, 2000 euros iront à EBS et 1195,46 euros seront reversés à LUkraine ASBL, organisation choisie par nos collègues germanophones pour leur marche solidaire.
Ecoles de Brousse au Sénégal – Ecoles de Brousse au Sénégal (ebs-luxembourg.com)
How Can I help? – Stop War – LUkraine ASBL (ukrainians.lu)
Je tenais personnellement à vous remercier d'être présents et de vous investir dans ces projets car sans vous tout cela ne serait pas possible. Merci aux nouveaux collègues pour leur participation.
Pour la section francophone
Emmanuelle Dewitte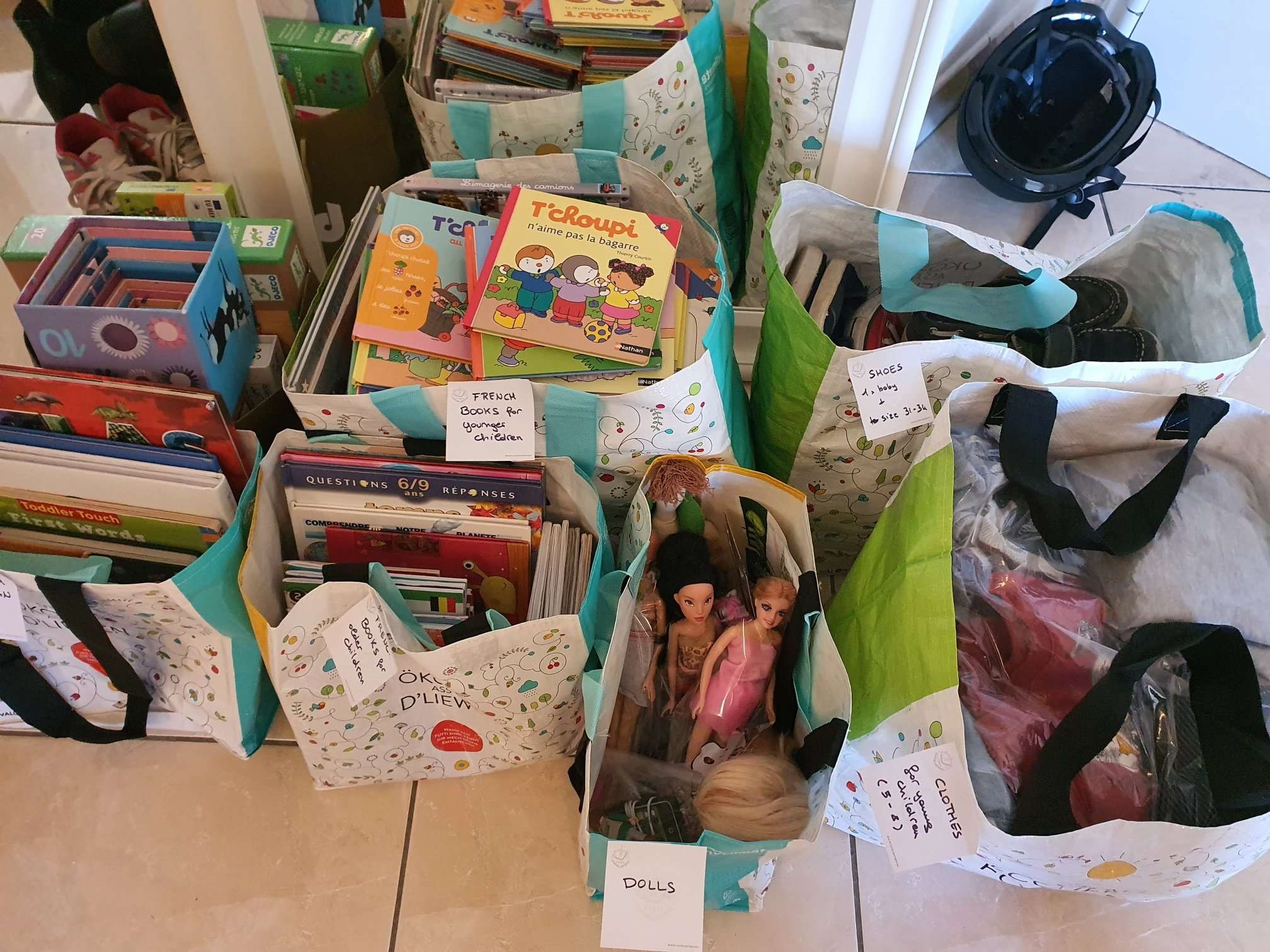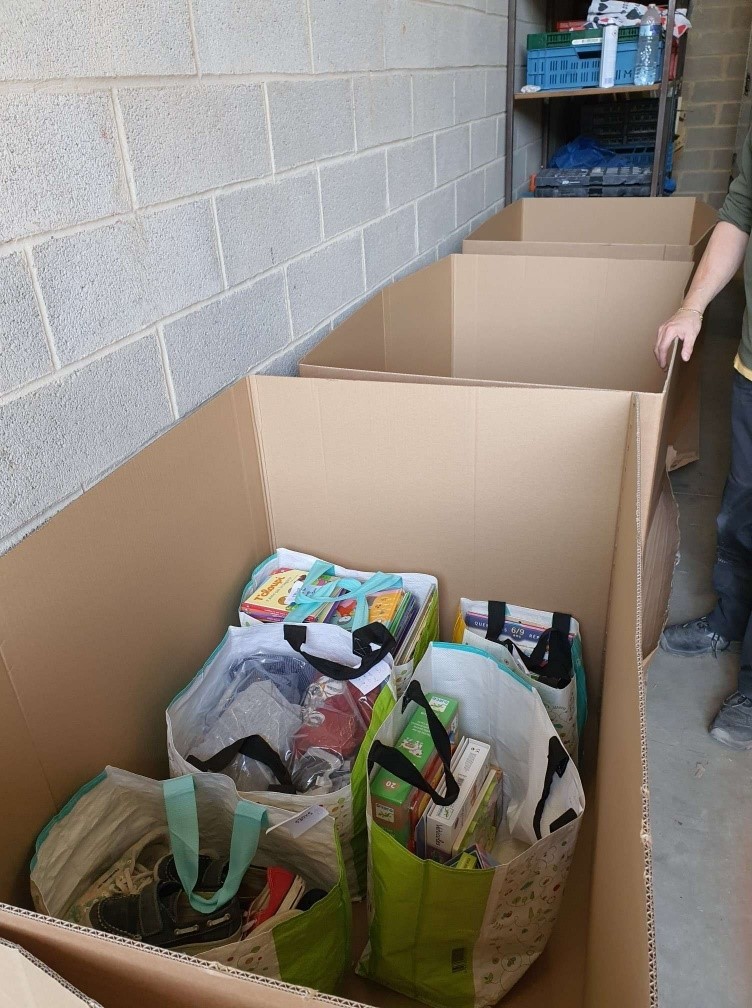 Chers tous,
Cet après-midi, nous avons pu nous rendre dans les locaux de stockage de l'association LUkraine avec nos coffres bien remplis grâce à vous !
Un autre voyage est prévu lundi après l'école donc si vous n'avez pas encore eu le temps de participer et que vous le souhaitez, n'hésitez pas 🙂
Sachez également qu'ils acceptent les dons spontanés et individuels. Pour cela, il suffit de vous rendre derrière l'hôpital Schuman dans la rue Joseph Leydenbach et de suivre ce panneau :
Là-bas, les bénévoles nous ont expliqué que tous vos dons allaient être triés en une dizaine de catégories. Ils en font ensuite des palettes qu'ils chargent dans des camions qui centralisent tout sur la plate-forme principale du pays et ensuite, ils se rendent vers différentes destinations et une partie des dons est conservée pour les réfugiés arrivant au Luxembourg.
Encore un immense merci pour votre investissement et votre générosité
Chaleureusement.
La section francophone / Solène Husson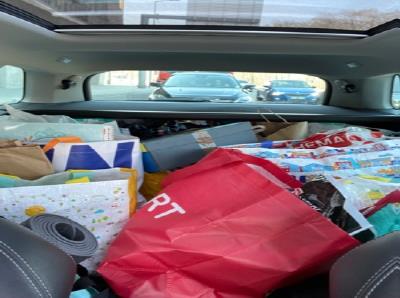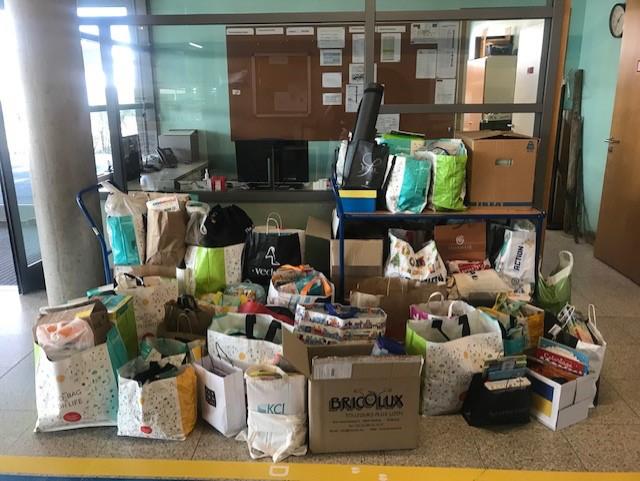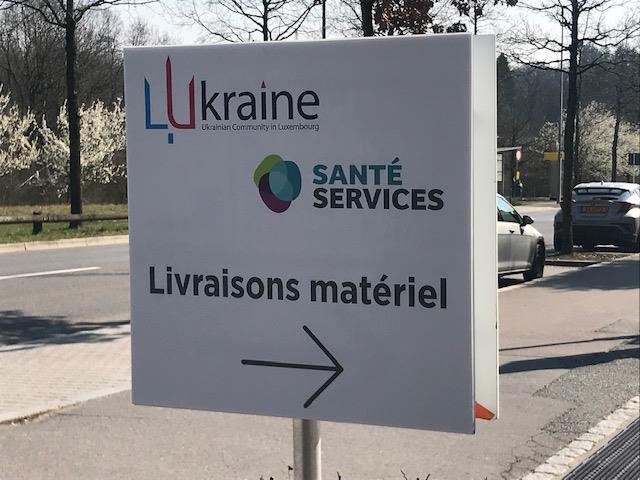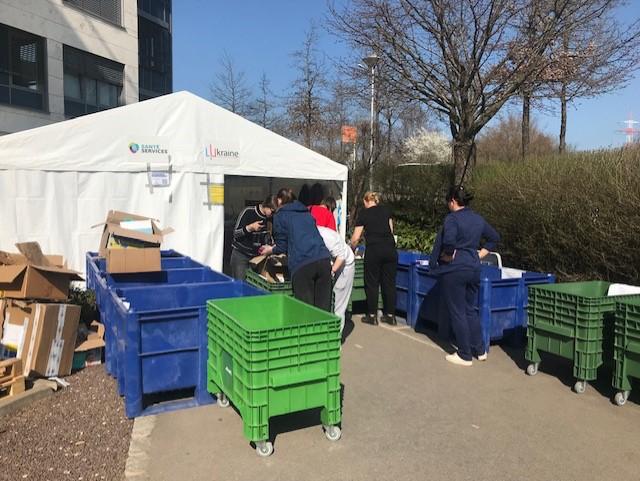 ---
Dutch Section
In March the students of the Dutch section brought in 'long shelf life' products. The children brought in a lot of products and we needed a large car to bring it all to the collection point near Kirchberg Hospital.
Kingsday is traditionally celebrated on the 27th of April in The Netherlands. One of the activities is a free market in the streets. The Dutch section held their free market in the playground of the school. Students sold little toys, books etc. There were also games to play. The free market was well visited and the collected amount of money, €1469,53 was donated to the people of Ukraine.
For the Dutch Section
Cornelis Klein
---
Portuguese Section
The Religion and Morals classes of P3, P4 and P5 of the Portuguese section, made necklaces, bracelets, key chains, watches… to raise money that will revert in favor of Ukraine, through Caritas.
The sale took place on Friday, April 29, at the main entrance of the primary school,
With the sale of the children's work, we made 1410,63 Euros.
For the Portuguese Section
Maria Santhos
---
Deutschsprachige Sektion
Unter dem Motto "Wir laufen für den Frieden in Europa" fand am Freitag, den 18. März 2022 der Spendenlauf der deutschsprachigen Sektion des Kindergartens und der Grundschule statt.
Sowohl sportlich während des Laufs, als auch im Vorfeld beim Sammeln der Spenden haben sich alle Kinder stark engagiert und so zum erfolgreichen Gelingen der Aktion beigetragen. Es kam die stolze Summe von 12.395,00 Euro zusammen!
In diesem Betrag waren auch über 1.100,00 Euro der französischsprachigen Sektion enthalten, die unser Vorhaben mit ihrer Spende unterstützt hat.
Ein Teil des Gesamtbetrages wurde an UNICEF Luxemburg gespendet. Der andere Teil der Spenden wurde von der Elternvertretung der Klassen P4 DEa und DEb an den Verein LUKRAINE ASBL überreicht. Damit konnte unsere Schulgemeinschaft den ukrainischen Menschen ihre Solidarität bekunden.
Ein großes Dankeschön an alle Kinder, Eltern und Lehrer und die Schulleitung,  die den Spendenlauf der deutschsprachigen Sektion so tatkräftig unterstützt haben!
Für die Sektion
Maria Meteau / Sven Nitschmann