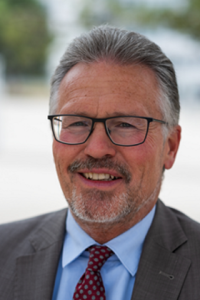 Dear parents, dear students
I would like to welcome you to the new school year. I hope you had a wonderful and relaxing holiday and were able to recharge your batteries for the new school year. I am particularly pleased to be able to welcome the entire school community yet again to a "normal" start to the.
However, this start of school will not be completely normal, as we are already very busy preparing for the 70th anniversary celebrations not only of our school, but also of the "system" of the European schools. The whole school community will be involved in these celebrations planned for October 2023. These celebrations kicked off last school year with our Europe Day event on 11 May, when the whole school celebrated Europe and the European spirit with activities and workshops. You have already received more information about these celebrations in the traditional end-of-year communication. More information will follow.
From 22 to 26 May 2023, our school was inspected as part of the Whole School Inspection regularly organised in all European schools. The results of this inspection will be presented and discussed with the parents' and pupils' representatives at the beginning of the school year in our School Advisory Council. I would also like to draw your attention to a new General Survey which will be organised in December 2023. More details on the organisation of this survey will follow.
The start of the school year is also marked by a change in the management of the secondary school. After a long career in the European Schools, Mr Marco Alberici, Deputy Director Secondary Cycle will be stepping down at the end of his secondment. On behalf of the entire school community, I would like to thank him yet again sincerely for his unfailing commitment, his thoughtful approach and his caring nature.
I am pleased to be able to confirm that he will be succeeded by Mrs Caroll Lemarié who, after a career as a teacher in the European Schools, has worked in recent years for the Luxembourg Ministry of Education and was head of the Luxembourg delegation to the Board of Governors of the European Schools. She will present herself on our website soon.
Today I would also like to draw your attention to the traditional Christmas Market of the two European Schools which will take place on 9 December 2023 at our school.
It now remains for me to wish you a successful school year 2023/2024.
Sincerely,
M. Wedel
Director