Challenge sportif – EEL1 100km – Sports challenge
Juin – 2020 – june
Coordination Education Physique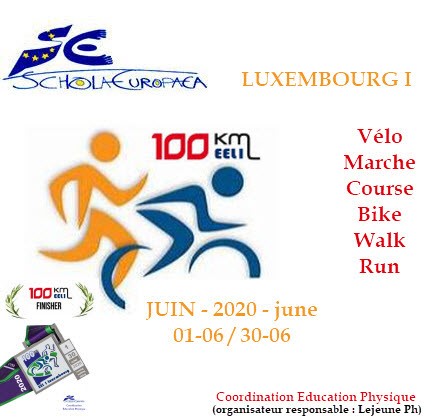 Prêt à parcourir  100km en un mois et comparer votre performance à vos amis, vos professeurs ?
Ready to run 100 km and compare your performance with the ones of your friends and teachers?
Le challenge 100km ( course, marche, vélo) débutera le lundi 1er juin et se terminera le mardi 30 juin.
The 100 km challenge (walking, running, biking) will start the 1st of June and will finish Tuesday the 30th.
Chaque participant est évidemment invité à relever ce défi près de chez lui et dans le strict respect des consignes de sécurité. La performance n'entre pas en ligne de compte. Le nombre de séances pour arriver au total de 100km est illimité. Certains relèveront le défi en faisant de longues sorties, d'autres additionneront patiemment les kilomètres chaque jour. (en courant, en marchant ou à vélo/vtt)
Every participant is invited to realize this challenge close to their residence and carefully respecting the security rules. The performance won't be taken into account and the number of sequences to reach the 100  km target will be unlimited. Some will accomplish the challenge by going on long strolls, others will be adding patiently each day a  few more kilometres (to their walks, runs, bike rides). 
Qui dit challenge, dit récompense. Chaque participant remplissant le contrat de 100km, sera récompensé d'une médaille virtuelle, bien entendu !
Of course, when there's a challenge there's a compensation. So, every participant accomplishing the final 100 km challenge will receive a virtual medal!
Pour une mesure précise de la distance et d'uniformité, il faudra obligatoirement utiliser l'application «STAVA gratuit »sur son téléphone portable et envoyer une capture d'écran de votre activité avec votre nom et prénom, lorsque vous aurez atteint 100km, dans l'équipe TEAM « Challenge sportif – EEL1 100km – sports challenge » pour recevoir sa médaille virtuelle !
For the precise measurement of the distance and for the uniformity of the conditions of the challenge, you must use the application "STRAVA" that you can download free of charge on your cellphone. You will send a screenshot of your activity with your name once you've made it to 100 km to the group  "Challenge sportif – EEL1 100km – sports challenge", which will be created especially for this purpose on the school's platform TEAMS, so that you can get your medal.
Comment s'inscrire ?
How to enlist
Il vous suffit simplement d'envoyer un message à votre professeur d'Education physique via Team en lui disant que vous souhaitez participer au challenge 100km et il se chargera de vous ajouter à l'équipe « challenge 100km », où vous pourrez envoyer via message,  votre capture d'écran lorsque vous aurez réalisé votre défi ! Bon courage et bonne chance à toutes et tous.
All you have to do is to send a message to your PE teacher via TEAM asking to participate to the challenge and they will add you to the group "challenge 100km", where you will send (with a message) your screenshot, once you accomplish the challenge.
Good luck and lots of success to you all
Organisateur responsable : LEJEUNE Philip